Our ability to maintain high sensitivity during a rapid PCR test is made possible by our innovative thermal cycling technology and proprietary LEX reagents. We have challenged the assumptions surrounding heat transfer in PCR. Combined with our direct-to-PCR workflow, we achieve dramatically higher speeds and lower costs than other molecular diagnostic tests.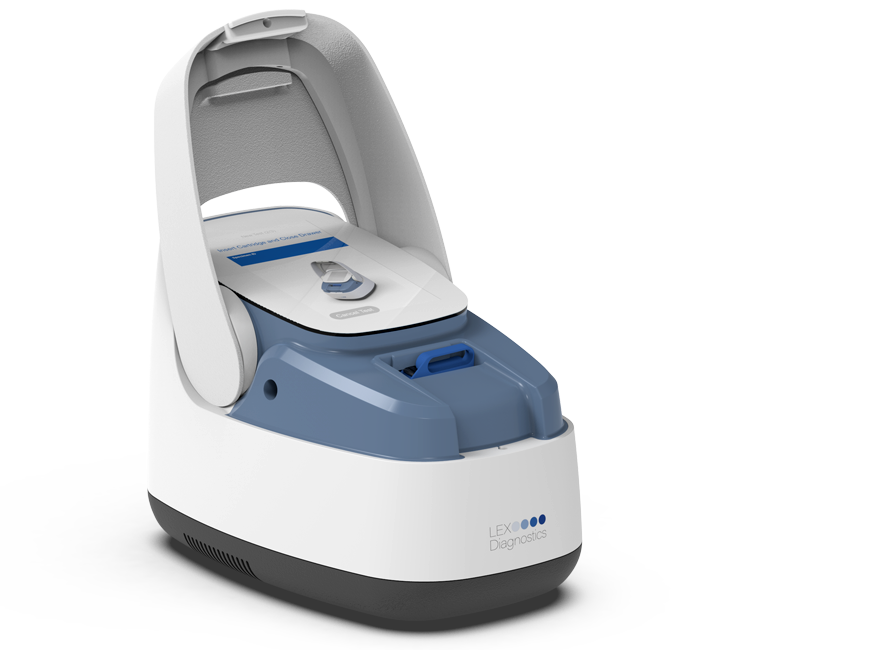 SPEED ENABLED BY THERMAL CONTROL
Our patented thermal cycler technology replaces the costly, unreliable Peltier devices used in existing products and enables ultra-fast heating and cooling with precise thermal control. This technology allows us to harness the true potential of enzyme driven amplification, maintaining high sensitivity while bringing rapid PCR diagnostics to the point-of-care.
This graphic shows how LEX technology enables both speed and flexibility in thermal control. Both are required for the most rapid amplification and no other approach delivers both, at low cost and high reliability.
LEX Diagnostics is developing a point-of-care system to enable medical professionals to carry out PCR testing on patients at a speed that fits within existing workflows and appointment times in primary care. Medical and laboratory staff in these settings are multi-skilled and routinely multi-task to deliver care with the speed and convenience expected of modern medicine. This places a strong requirement for ease-of-use on the tools they utilise. The LEX system is built around a cartridge which accepts a dry swab and carries out all the sample preparation, processing and readout required to provide clinical insights without external sample elution or other hands-on tasks. This is the future of diagnostics.
We recognise the value of time in point-of-care testing. In addition to ensuring tests are rapid, all sample preparation is completed within the system, eliminating the need for any sample or liquid handling. This swab-to-result workflow minimises hands-on time and reduces the risk of exposure to protect healthcare workers. The LEX system has been designed for use in CLIA waived settings, enabling rapid PCR testing within urgent care centres and physician's offices.

An anterior nares (lower nostril) swab specimen is inserted directly into the disposable cartridge. Closure of the lid seals the sample into the cartridge, which provides a clinician the flexibility to decide whether to process the test in the consulting room, or to transport the cartridge safely to an on-site lab.
The LEX reader provides an answer faster and with less hands-on effort than any existing product on the market.
Get in touch
Learn more about our company and the science behind our 5-minute diagnostics platform.